Having spent the vast majority of my winters riding outdoors, I've been highly skeptical and hesitant to buy a smart bike trainer for riding indoors. I thought an indoor bike trainer would make me less tough, less adventurous, and more bored.
This year, I took the plunge and bought a Wahoo Kickr v5, one of the better smart bike trainers on the market. (See more smart trainer options in a blog post I wrote for Better Triathlete.) I've been using it with the indoor cycling app Rouvy for the past few months, and I am happy to report that I am glad I took the leap to ride indoors.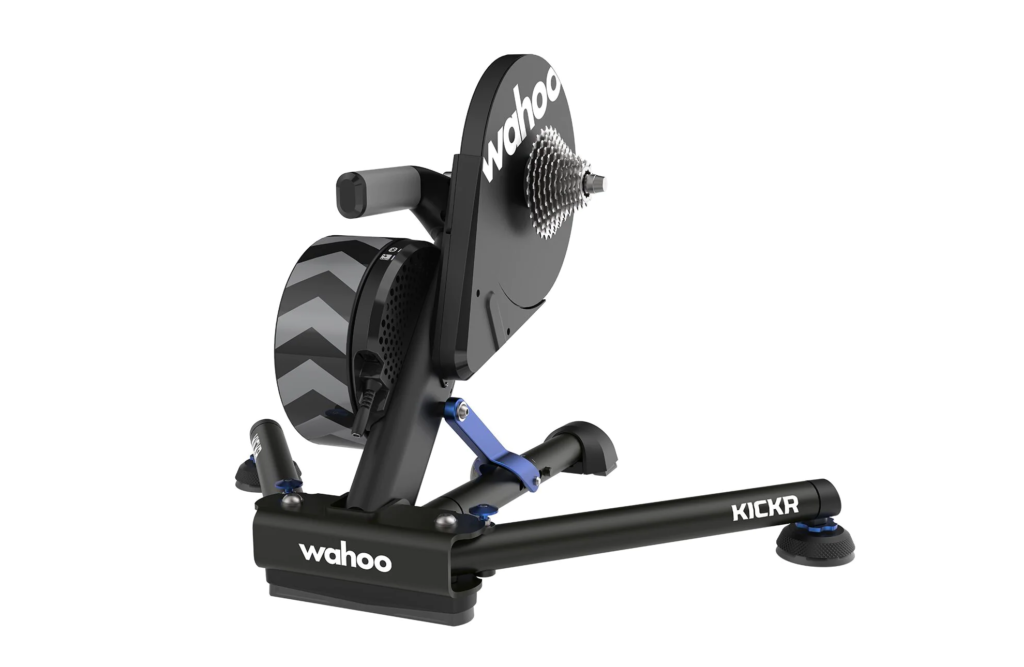 I do miss riding my bike outdoors because for now, my one and only gravel bike is set up on the bike trainer (and I am hesitant to take it down and recalibrate the gearing just to ride outside). So for now, it's 100% indoor riding for me this winter.
In turn, I have discovered newfound benefits to riding with my Kickr indoors, specifically using Rouvy to inspire my rides. Based on my experience, here are some of the many reasons that I find a smart bike trainer to be worth the investment.
Smart trainers seamlessly simulate gradient changes
I was shocked to discover how realistic my Kickr smart trainer felt on the bike. The feel of climbing and descending simulates real-life riding, especially when transitioning from certain pitches of elevation gain and gradient changes.
Smart trainers are incredibly accurate
In using my smart bike trainer, this was the first time I was able to see my wattage output, as I don't currently use a power meter on my bike. I was shocked at how accurate the Kickr was in measuring power output, as well as pedal cadence and gradient percentage on inclines and declines. These metrics are very useful when training inside.
Smart trainers are extremely quiet
One of my biggest concerns when investing in a smart bike trainer was how much noise it would produce. I share a living space with three other people, so I wanted to be able to use my bike trainer guilt-free without it making a lot of noise. My Wahoo Kickr is extremely quiet. And from what I learned about other trainers, is that most of them are fairly similar, if not even quieter. If you invest in a direct-drive smart trainer like the Wahoo Kickr v5, you'll quickly learn that your chain and drivetrain will produce more noise than the trainer itself.
Smart trainers mimic real-life ride feel
While I don't use a wobble board or a fancy rocker plate to simulate the side-to-side motion of riding outside, the sensation of pedaling is extremely realistic. Because most direct-drive smart trainers use a robust flywheel, it requires the same get-up-and-go effort to accelerate from a dead stop. And when embracing a steep pitch, it's bizarre how lifelike it feels to downshift and spin into a higher gear to climb.
Smart trainers make it easy to ride the bike
Unlike outdoor winter rides when it took a good 20 minutes just to layer up and embrace the elements, it only takes a few minutes to fire up Rouvy, put on my bibs and cycling shoes, and get to pedaling. The trainer is ready to go within seconds of plugging it in, and Rouvy makes it easy to start a ride within a minute or two of launching the app.
Smart trainers make it fun to ride
Indoor cycling apps like Zwift, Rouvy, and TrainerRoad provide a sense of community, even when riding alone. You can join rides and routes where other cyclists are getting after it. And you can even partake in competitive races to really ramp up your training. I have been having a blast with Rouvy because I can ride iconic European routes from the comfort of my home. 
Smart trainers are heavy duty
Direct-drive smart trainers, when compared to fluid trainers, are heavy-duty pieces of equipment. My Wahoo Kickr v5 is almost 50 lbs in total. The thing is a beast and can take a lot of use and abuse. While I have only used my trainer for a couple of months, I foresee this investment returning many years of use without any issues.
Smart trainers allow you to ride your own bike
While this is the case for most bike trainers, including fluid trainers, roller, and direct-drive trainers, the beauty is that you can ride your very own bike. Unlike an at-home exercise bike like Peloton where you need to adjust the seat height, fore and aft, and other bike fit settings, with your own bike set up on the trainer, you're using the same outdoor bike for the indoors.
As someone who logs almost 10k miles per year, it's important to me to be using my actual bike, saddle, and fit all year round.