I recently wrote a blog on the topic of the best-tasting vegan protein powder. Having tried and critiqued a wide range of protein powders, I found a winner that's worth calling out.
Instead of singling out the winner, I assembled a short list of my favorite plant-based protein powders. Not only do these products taste the best, buy check all my preferred nutritional boxes as well.

While I am not vegan, I have always preferred clean, nourishing, and nutrient-dense protein powders made from plants. Not to knock on whey protein, but the digestibility and feeling of plant-based alternatives sit well with me.
Vegan Sport and Garden of Life Sport are two of my go-to's that rival whey in terms of athletic performance and recovery. They also taste great and made the best-tasting list.
Check out all five of my choices for the best-tasting vegan protein powder. Or cut to the chase on my top pick below.
Orgain Simple Protein
Orgain is an organic brand that's fairly mainstream. Initially, I found their flagship product, Orgain Organic Plant Protein, to be a hit. But it later started tasting too intense with the stevia. So I gave it up.
Fast-forward 5 years later and I curiously purchase one of their newer products, Orgain Simple Protein. The ingredients are some of the simplest and most natural I've seen in any protein powder. Plus, it's stevia-free.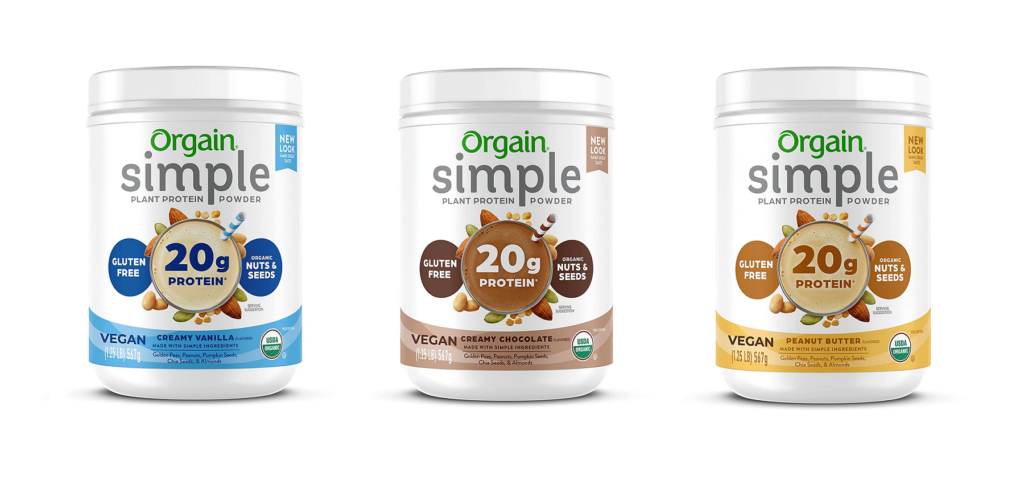 The taste is malty, biscuity, and sweet, and it smells as good as it tastes. The texture is very smooth and easy to incorporate in any type of addition. I like it in smoothies, pancakes, and oatmeal. If I could only choose only one protein powder for the rest of my life, this would be it.
Not only am I fond of the quality ingredients list and delicious flavor, but Orgain Simple Protein is affordable and easy to find. I get it at my local grocery store for about $27, which comes in a 1.25lb tub.
Take a closer look at my Orgain protein powder review, which is a legacy post on the blog that's recently been updated!