SEO content strategy is a peculiar beast in the vast sea of digital marketing channels. It's not a new concept. But it's one that's becoming increasingly popular due to its proven efficacy.
Owning a piece of high-ranking content and meeting your target audience when they're actively searching – is there a better form of marketing than that?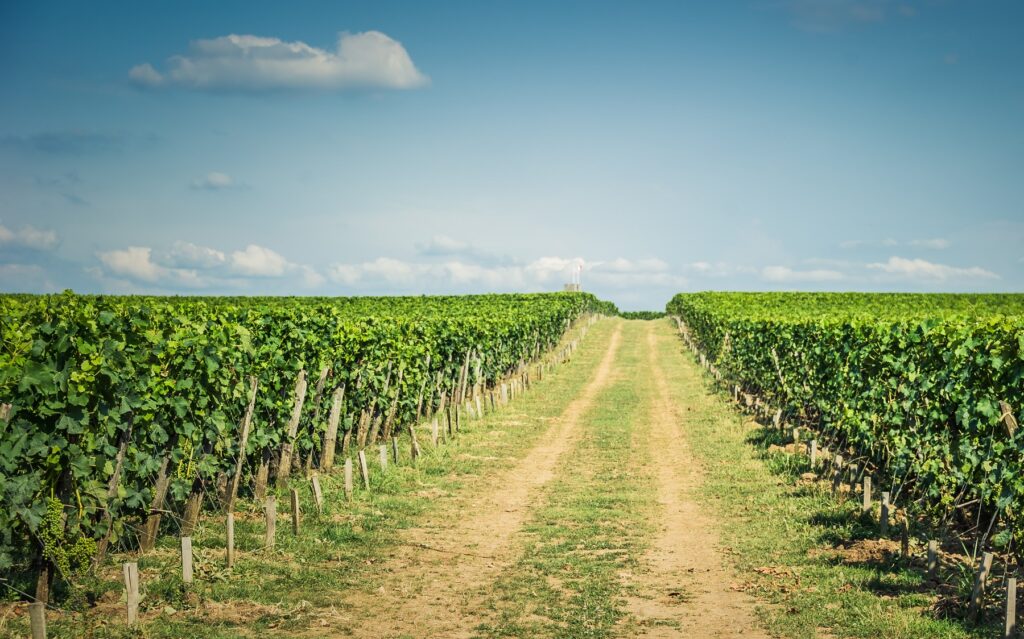 Crafting an SEO content strategy requires a harmonious balance of right and left brain activities. It's a rigorous exercise of keyword data distillation and research, later combined with relentless creativity and ideation throughput.
Unlike many forms of content marketing that thrive on social engagement, quick sales, and immediate ROI feedback, there's a particular beauty in the form of SEO content's slow, organic growth and sustainable, long-term returns.
Due to the enormously high volume of posts already discussing SEO and content strategy, my field guide takes a slightly different journey into the techniques and tactics to grow traffic organically. Here's a collection of anchor links for quick navigation:
Intro: Content Strategy is Integral to SEO, and Vice Versa
Now more than ever, the type of content you see ranking in Google search is "blog" content.
I put the word "blog" in quotes because "blog" can loosely define any type of publishing platform, whether the strategy involves blog posts, articles, listicles, white papers, case studies, videos, infographics, or all of the above.
The query could be "triathlon coach," and you'll often see blog-like content ranking on page one (such as "How to Choose the Right Triathlon Coach for You") and far fewer core website pages, like coach profiles, listings, about us, and service pages.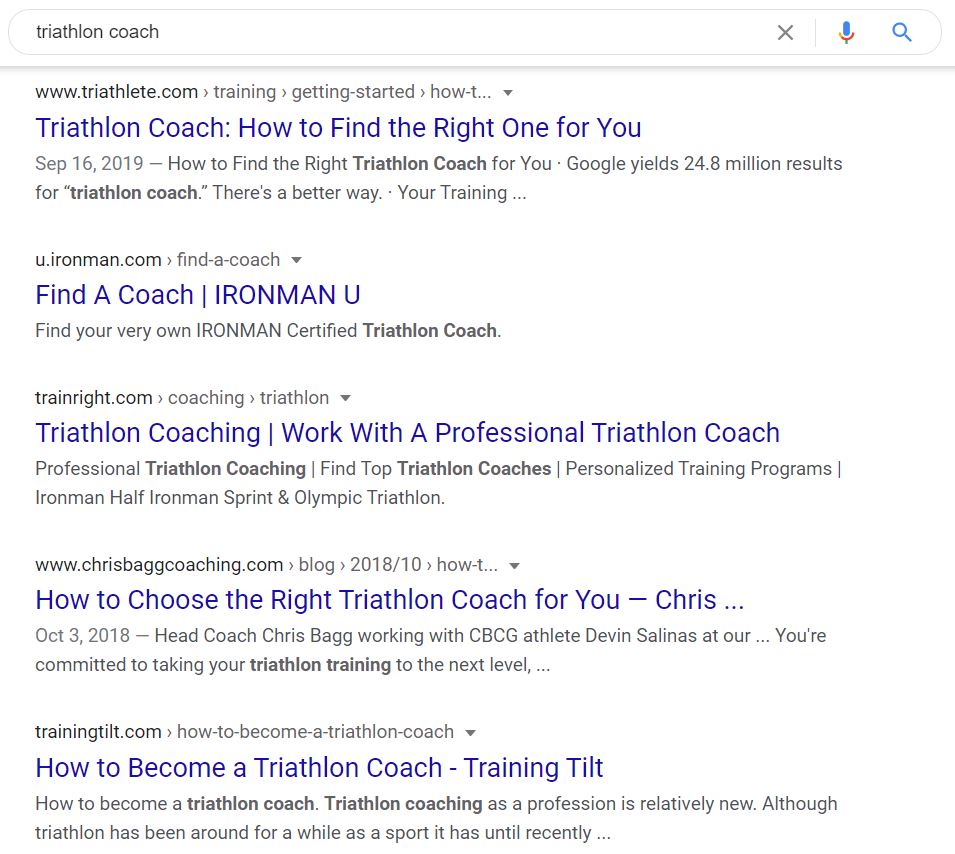 Think of it as Google's way of serving users a variety of informative and not always promotional content. This trend underscores a symbiotic relationship between content strategy and SEO and how these strategic channels are no longer mutually exclusive.
Almost every SEO program that seeks to grow a site's organic traffic can benefit from an ongoing content strategy.
Conversely, almost every digital content strategy can add value by incorporating search data and SEO best practices.
I would argue that the ongoing content strategy will deliver greater long-term returns than a one-time, optimize-and-launch SEO strategy. Based on the 80/20 rule, I would put 80% of my time and energy into the ongoing content strategy while infusing SEO into that mix.
And because I believe so deeply in the power of content strategy for SEO (and vice versa), below I explain 80% of what exercises I use to produce big organic traffic gains.
1. Go Beyond Keyword Research with SERP Analysis
Keyword research is a fundamental process that helps guide any SEO content strategy. Not only can this process inspire new and relevant topics, but the outcome provides measurable insight as to when and how often particular keywords are being searched.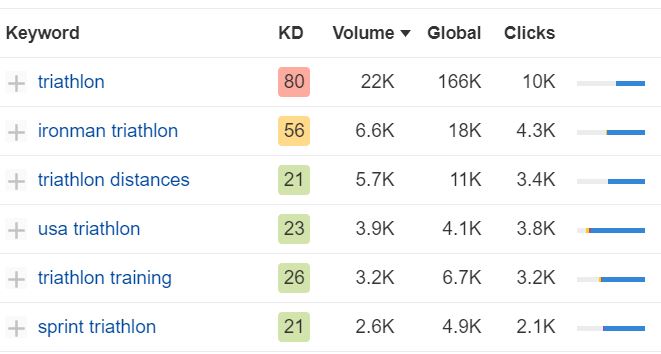 The problem with conventional keyword research processes is that SEOs and content strategists will focus on individual queries and their average monthly search volume without considering the bigger picture. That is, the actual SERPs (or "search engine results pages") for a given keyword.
An excellent place to start is to visit Google and begin typing your search query of interest. Notice what predictions or auto-suggestions Google offers as you begin to organize your keyword.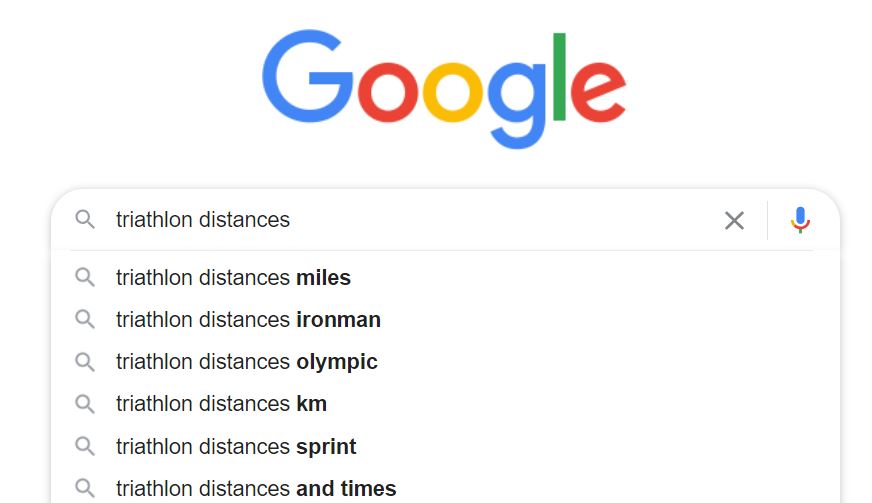 Take note of any predictions that catch your eye. While we've yet to reach the SERP for this query, this simple exercise can offer additional insight into which long-tail searches you may want to include in your piece of content.
When ready, click to search your desired query. If you notice several Search Ads or Google Shopping Ads at the top, this is a good indication that your target keyword is highly valuable and very competitive. In other words, it might be an uphill battle generating organic traffic with a fresh piece of content, depending on your site's domain authority.
Suppose no ads are present, and instead, you see a Featured Snippet at the top of the SERPs followed by a collection of organic listings and dynamic search content. In that case, it's more likely this keyword of interest will offer greater returns for your SEO content strategy.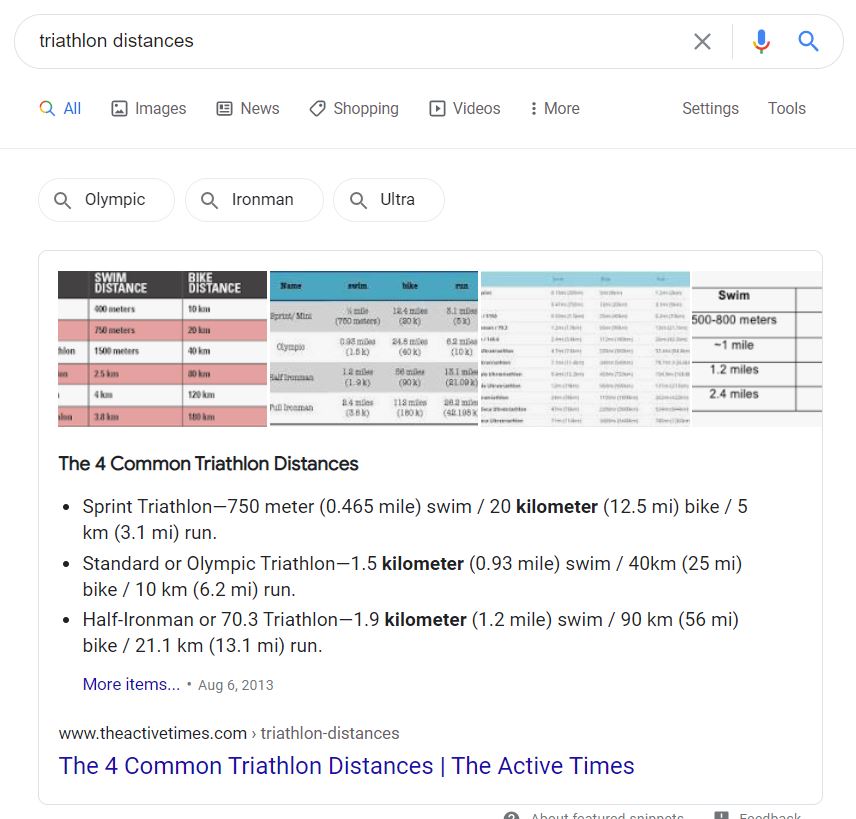 In the case of our "triathlon distances" keyword, we see TheActiveTimes.com occupying the Featured Snippet, just below a collection of featured images. In the step below, I discuss more on what to look for when reviewing competing content.
More insightful for this exercise is the People also ask box shown just below the Featured Snippet. Here we can see frequently asked questions related to our target query.
Not only can these questions inspire content topics in themselves, but at the very least, they can help shape the creative direction for developing the new piece of content for our blog.
For example, we may want to include an FAQ section on our future "triathlon distances" page that answers some of these common questions.
As you continue to scroll and analyze the first SERP for a given search query, take a look at what sites rank and how they're positioning their content. Observe your competitions' titles and meta descriptions, and think about how you can stand out from the pack with a little more creativity and allure.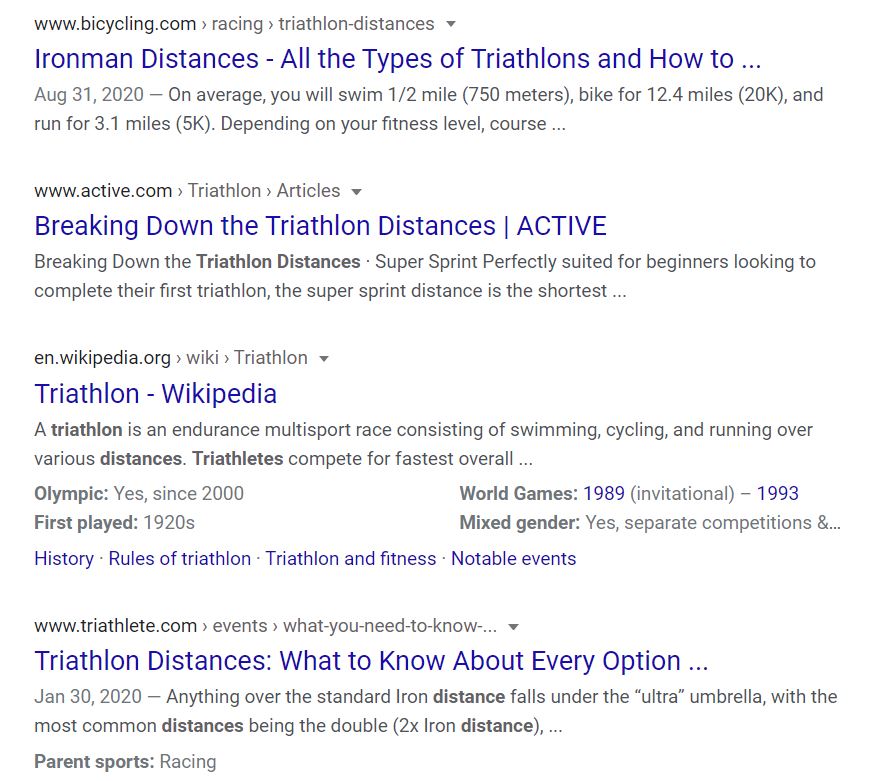 The other aspect of this exercise is sizing-up the competition. Suppose you're seeing nothing but high-authority publishers (i.e., Forbes.com, Entrepreneur.com, Inc.com, etc.), you might want to rethink your target keyword. Given how cluttered and competitive SERPs have become, settling for rankings below the top 5 is not worth your time. And outranking powerful domains is often an uphill battle.
In the example above, we're confident we can eventually rank our "triathlon distances" blog post into the top 3 or even secure a Featured Snippet in several months.
Lastly, have a look at the Searches related to links at the bottom of the first SERP. Here you can gather further keyword insight for SEO and creative understanding for your piece's content strategy.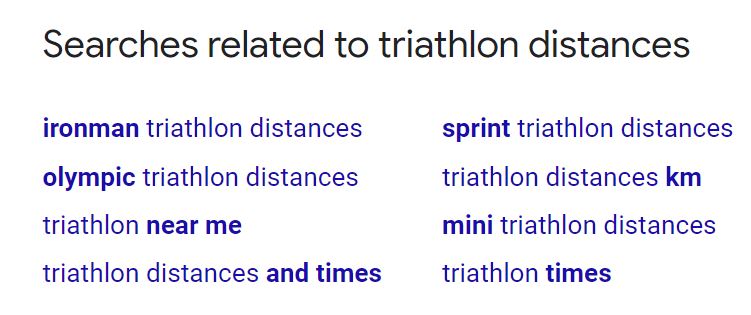 As for my "triathlon distances" blog post, we'll want to include information about the various types of triathlons (i.e., Sprint, Olympic, Ironman, etc.) and average finisher times. We also may want to have distance data in both miles and kilometers.
2. Scope Out Your Top Competitors
Most SEOs know the value of conducting a competitive analysis. You're trying to see who you're up against in the organic search results. In doing so, you can also extract a lot of ideas.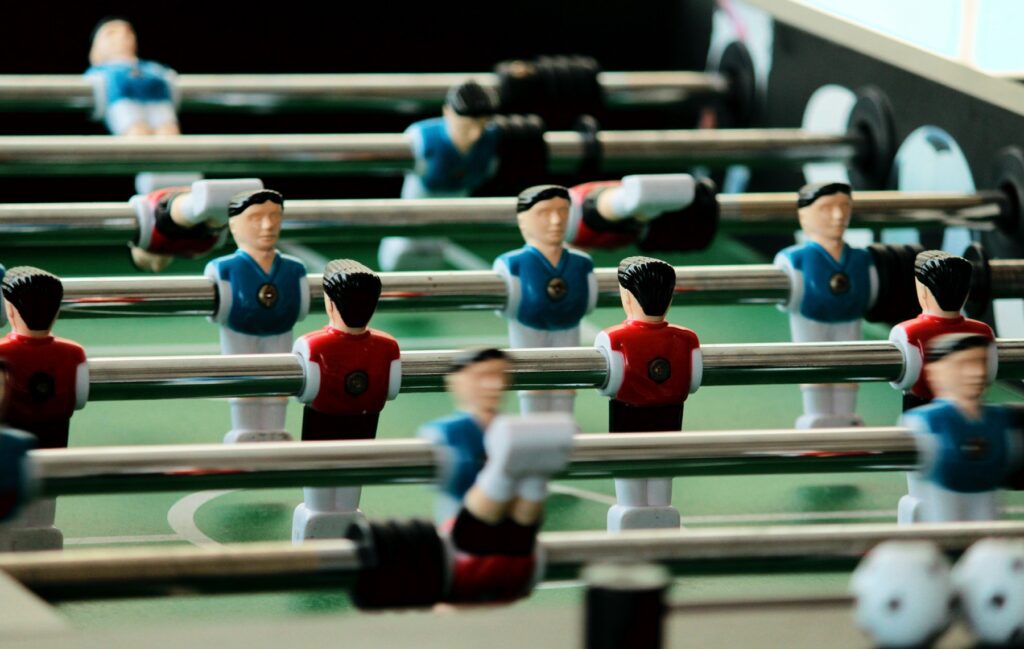 Without spending too much time here, I've assembled a 10-hit punch list of what to look at when sizing up your competition. In addition to using these insights for your SEO purposes, consider how you can use this data to better position your own content strategy.
Title and meta description content, use of keywords, and overall resonance and grab
Any rich snippets or dynamic search elements showing in the SERP (see the image below of Review snippets)
Who is showing up in the "People also ask" boxes, and why?
Use of images and how well images are optimized (via file name, properties, and ALT text). Optimized images indicate thorough SEO and savvy competition.
Videos and how they're embedded (self-hosted or Youtube/Vimeo platform). Are they producing the videos, or are they embeds from other YouTube/Vimeo channels?
Copy – How many words? Is it good quality copywriting and easy to digest? How well is it organized with headers, charts, bullets, and other text formatting?
Links – both internal links to other pages of the site and external links to other sites. Are the links to quality sources of information
Are comments enabled and active? Posts can grow over time with user-generated content by way of comments and reviews.
Structured data markup/Schema (which influences rich snippets) and overall HTML and technical SEO performance (page speed, size, bottlenecks)
Backlinks. What referring domains, quality of backlinks, and any domain authority or trust metrics associated with the competitor. A paid tool is typically needed for this. I prefer Ahrefs.
You could run a few additional procedures to get a complete picture of a competitor's overall strength, but this punch list (which could be checked off in less than an hour) is 80% of the competitive analysis equation.

Amidst this process, in addition to documenting your findings, you should also be thinking about how you can angle your SEO content strategy to be both original and more valuable than your competitors.
This underscores a critical component mentioned further below in this field guide, that is, producing "BiC content." But before we get there, let's first discuss how to best map your content calendar for SEO success.
3. Outline an SEO-friendly Content Calendar
After researching keywords, SERPs, and competitors, the next step is putting ideas to work. Depending on what direction you wish to take with your strategy, you may want to start by mapping out topics that you plan to cover over an extended period.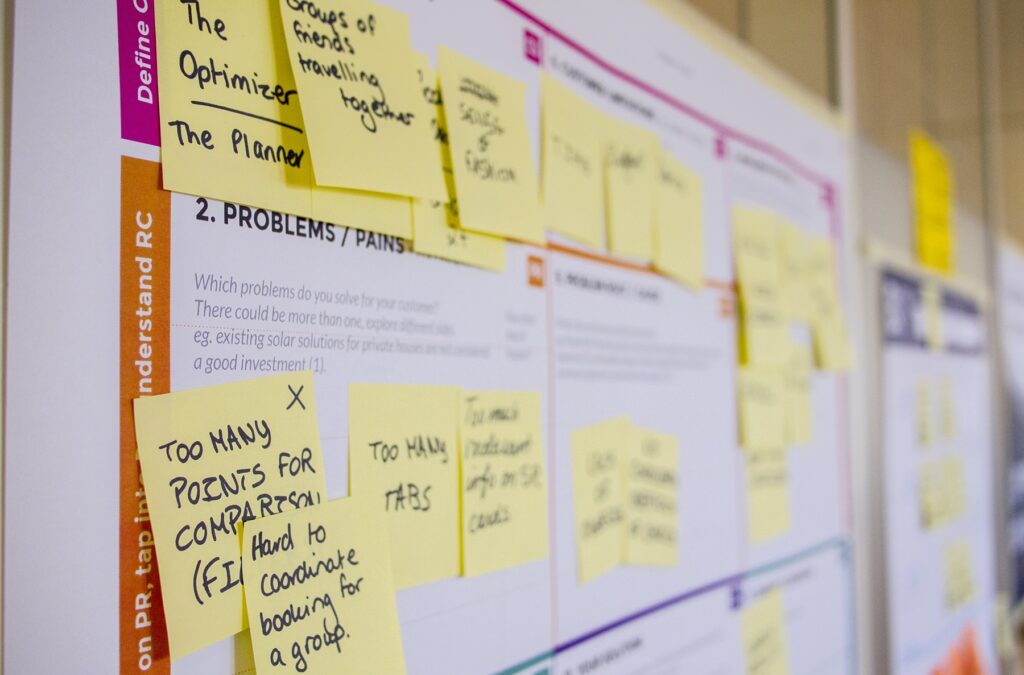 In more formal contexts of crafting an SEO content strategy, such as an agency or client relationship, this will involve developing a more traditional content calendar or SEO roadmap, depending on what's involved.
This calendar is a schedule that outlines when certain pieces of content are to be developed and published. Here we'll consider search trends, seasonality, and other variables that determine an ideal publishing date.
Because it often takes several weeks and months for a post to be indexed and ranked in Google, I usually emphasize publishing posts a couple of months before peak search interest.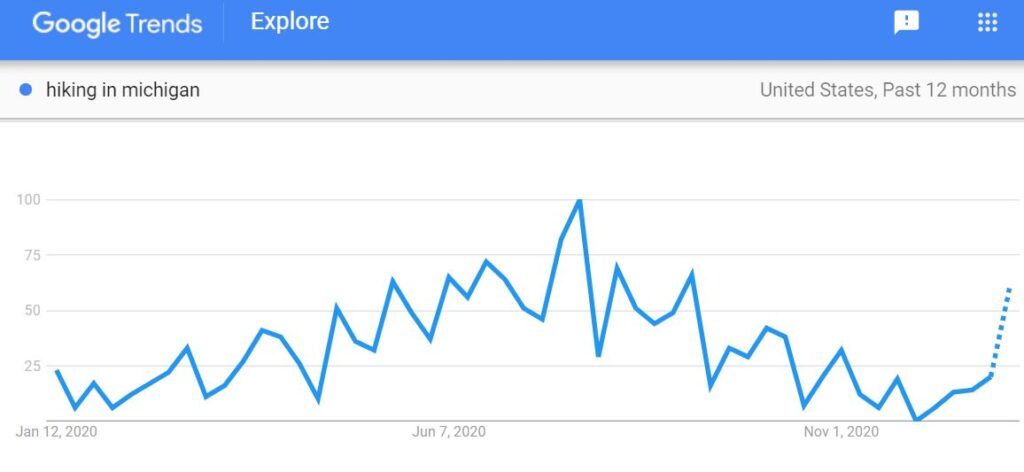 An example would be publishing a post about the "Best Hikes in Northern Michigan" in early March with the anticipation that it will be indexed and ranking come summertime when most people are interested in such content.
Use your keyword research and look at Google search trends (even from years past) to help organize your content calendar. Even if the content strategy is for your own business or project, a schedule can help keep you accountable and on track.
4. Create "Best in Class" Content
I have a simple rule when creating SEO-driven content to ensure anything that I publish is Best in Class or BiC content. It's characterized as content that's more thorough, long-lasting, and better-optimized than your competitors.
In simple terms, BiC content is work that's better than everyone else's in a given topic or keyword theme. It's acknowledging the effort of your top competitors and taking your content one step further. It's producing the best work you possibly can, and in doing so, creatively positioning your brand as an authority figure for a given topic.
So, how do you create BiC content? Several elements define content that's especially worthy of high rankings. While not all of these components are crucial to outranking your competition, some common factors are:
Writing copy with greater clarity, depth, and balanced keyword inclusion. Often greater word count can provide a slight SEO edge, especially if your domain is less authoritative than your competitors'.
Organizing content in a digestible format, using subheaders, concise paragraphs, and text styling, like italics and strong tags/bolding where appropriate.
Producing original images, photography, and graphics, and optimizing every one of them before uploading to your site.
Sourcing data from trusted publishers and research studies, and properly citing those studies in APA, MLA, or Chicago formats.
Structuring URLs to be clean, concise, and timeless (do not contain any dates or years).
The next few steps in this field guide focus on ways to further grow your content to be even more Best in Class.
5. Be Deliberate with Internal and External Links
While backlinks from other websites are the cream of the crop for SEO, the internal and external links you add to your posts can also play a pivotal role.
Internal links, also known as "cross-links," are intended to point users to related content on the same website. Not only do internal links guide users to related content, thereby promoting engagement and keeping them on your site longer (which is good for SEO), but strategic cross-linking can also impact search visibility.
Take the example below on one of my competitor's websites, 220triathlon.com. They've successfully achieved a double-stack in the search results for a highly-competitive search query "triathlon training."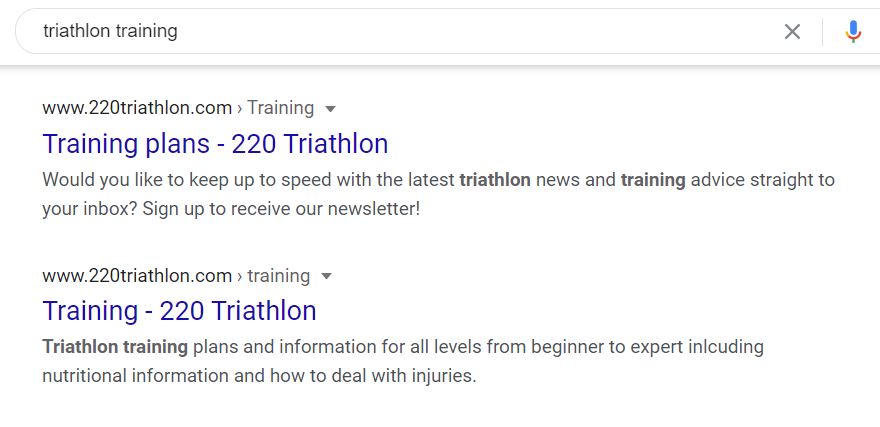 Despite the site's SEO appearing mediocre at best, 220Triathlon.com has accomplished this double stack using densely tiered URLs paths, breadcrumb links, and exceptional internal linking.
Case in point, leveraging internal linking in your site's content, especially with blog posts, is an effective way to help facilitate better indexing, usability, and search visibility. I highly recommend you be very liberal with your internal links, and don't be afraid to use keyword-relevant anchor text when you build them.
External links, also known as "outbound links," can also level up your content's SEO but in a different way. These types of links point to pages on other sites. The best example of a quality external link that I use often is referencing and linking to a relevant research study on PubMed. When adequately cited in MLA or APA format, this can add a layer of trust and credibility to your post.
Reboot conducted a study on external links as ranking signals and found a positive correlation between a page's outbound links and its search rankings. The study hypothesized that Google could determine a page's authority based on the authority of the sources it associates itself with via external, outbound links.
In other words, you can boost SEO by doing your homework, finding authoritative pieces of data and research to support your claims, and linking out to those sources of information.
Be thorough and deliberate with both your external and internal links, as it's one aspect of your SEO content strategy that you have full control over and one ranking signal that can improve performance.
6. Diversify Your Content Strategy with Different Formats
Text-based content, such as articles and blog posts, provides an essential foundation for any content strategy, especially with SEO at the forefront.
But you can also add tremendous legs to your strategy by branching out into different forms of content, such as producing original photography, video, infographics, ebooks, white papers, podcasts, gifs, and memes.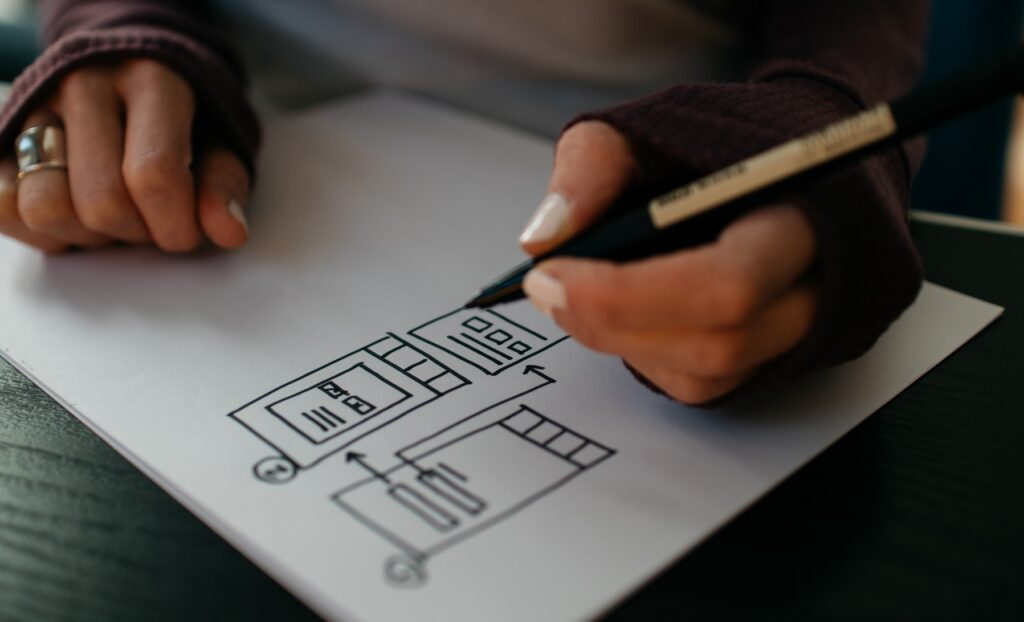 It's no secret that embedding various creative works into your blog post (i.e., relevant YouTube videos, photos, and infographics) promotes better engagement and adds SEO value. But what separates the best content creators from the pack are those who are actually making the YouTube, capturing original photography, and designing useful infographics.
Below are several common examples of content diversification.
Designing an infographic to supplement a high-performing blog post or video
Turning an in-depth article into a digestible ebook download
Working with a photographer or videographer to capture original, quality visual content
Becoming a subject matter authority while growing your brand by starting a podcast
Producing useful videos and maintaining an active YouTube or Vimeo channel
Unleashing a sense of humor with animated gifs, memes, and funny ways to resonate with your audience
Blogging on other websites to expand your reach and grow link equity (somewhat of a different beast)
Developing alternative and supplemental forms of content adds substantial firepower to your overall content strategy.
In the classic SEO example, one of the best things you can do when a post gains momentum in organic search is to explore new ways to gain traction in other channels. Diversifying the types of content you create is a great way to facilitate that effort.
7. Update Old Content
One overlooked aspect of maximizing SEO value behind your content strategy is improving upon old content that's already been published. This is why I advocate short and timeless URLs that do not include any date or year. You can always go back and update these pages, as I do in the example below.
Based on my experience as an SEO content strategist, you may find that old posts are in the hunt for high-volume keywords over time. They just need a little tweaking and updating to set them off.
There are a few ways you can identify high-potential posts. Although data will be limited, the free approach uses popular tools like Google Search Console or Google Analytics.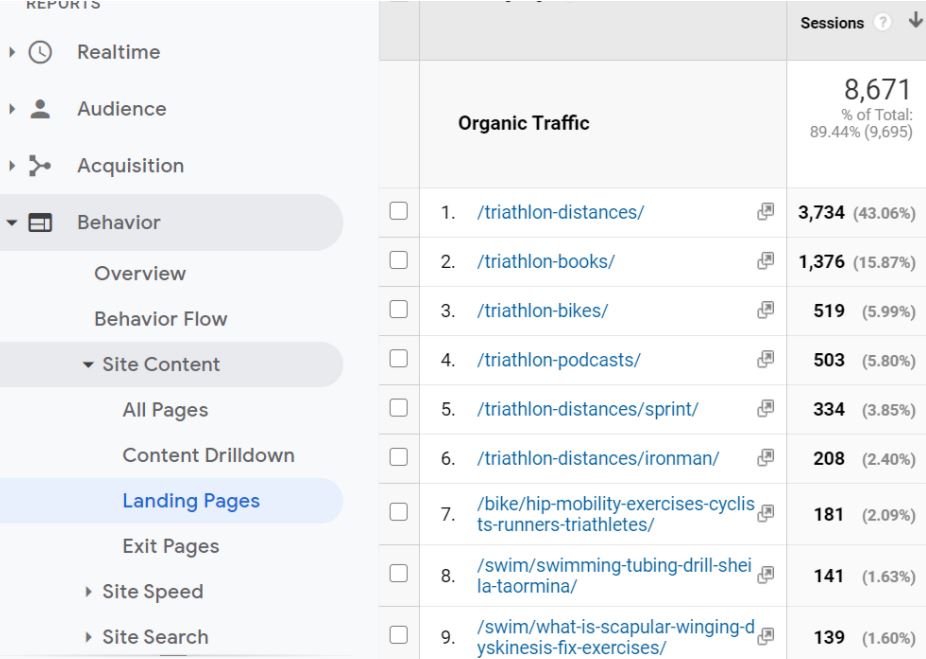 In Analytics (shown above), follow the click path of Behavior > Site Content > Landing Pages (and sort by Organic Traffic) to see which URLs are generating the most organic search traffic. Combined with the help of keyword and ranking data, you can quickly find old posts that might be worth refreshing.
The process is very similar to Search Console (shown below). Click Performance in the left-hand menu, then the tab for Pages. Like Analytics, you can see which URLs are powering your SEO strategy.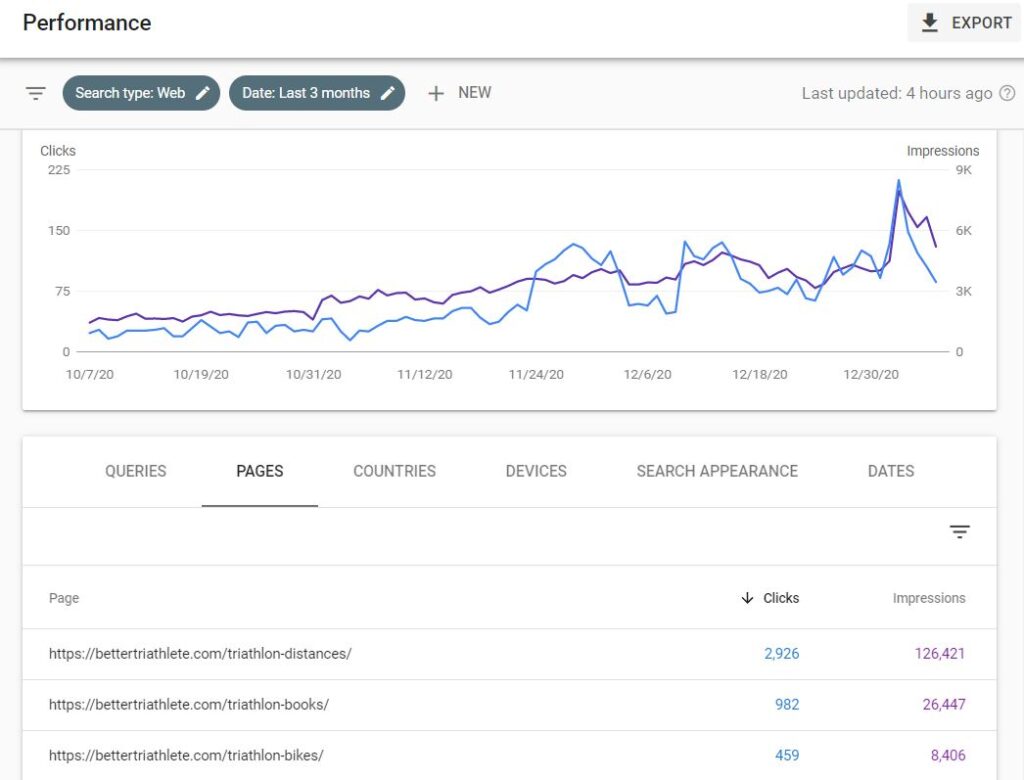 The easiest and most effective technique is using tools like Ahrefs or SEMrush. With these tools, you can sort pages by Organic Keywords. This will show you which search queries generate most of the page's keyword rankings and organic traffic.
What's nice about tools like Ahrefs is that it connects both keyword data and organic performance to help guide a clear revision.
In the example below, I once published a post on my triathlon blog focused on Strength Training for Endurance Athletes. Although that query gets only 90 searches per month, I also noticed the same post was in the hunt for Strength Training for Triathlete(s), which brings about 5.5x the search volume.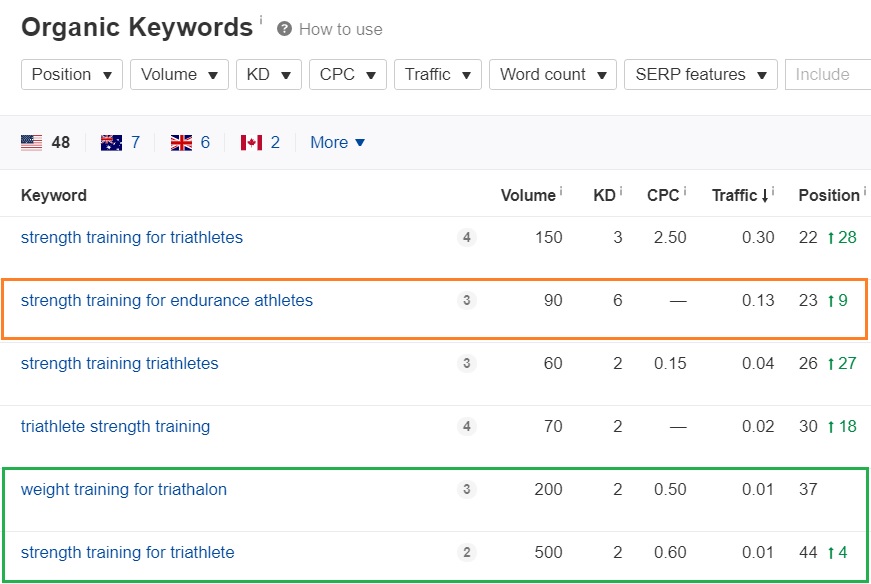 It was then I took the liberty of repositioning this strength training post to focus specifically on triathletes. In doing so, I expanded on the content with significantly greater depth, imagery, research, and videos.
In less than two months, this post experienced tremendous gains in keyword ranking and organic search traffic.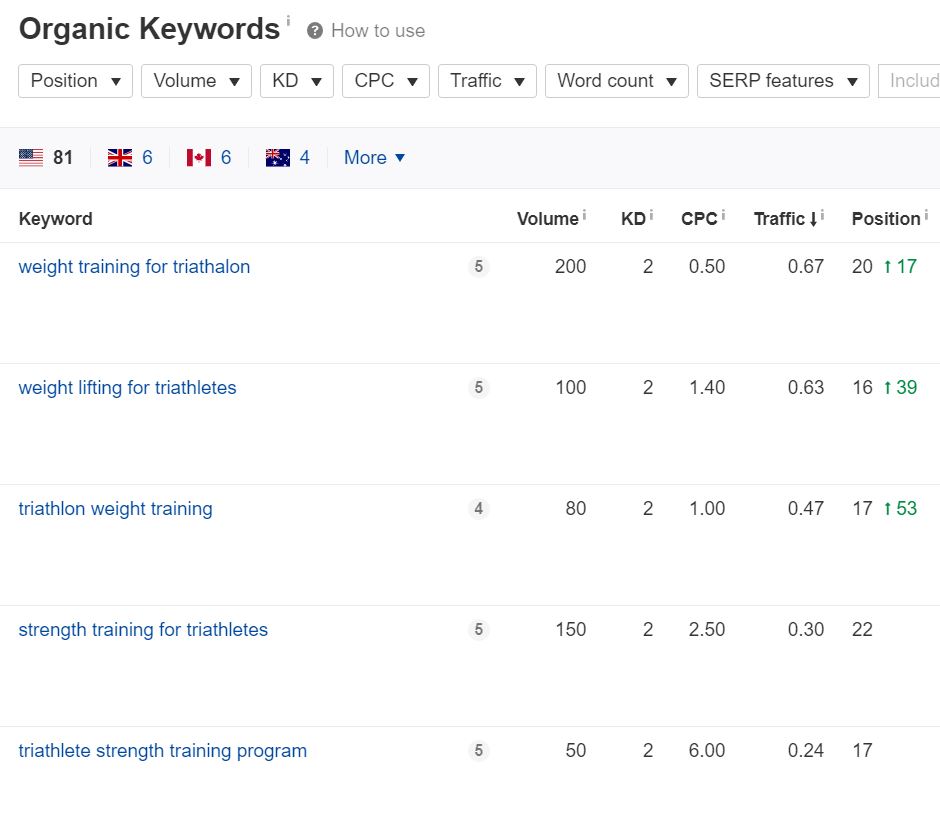 This is just one example among many posts that have undergone a revision to see a lift in the search results. Combined with acquiring links from other sites, the potential to yield organic traffic can grow by leaps and bounds.
Thanks for reading my post, SEO Content Strategy: A Field Guide for Growing Organic Traffic. If you'd like to reach out, you can contact me to get in touch.