Paid search "summer campaign" proves itself three years running
Alongside my contributions to the SEO content strategy for NSHSS, I also manage the organization's Google Ads.
As discussed more thoroughly in the content strategy linked to above, NSHSS faces brand reputation challenges. It's immediately discounted as a scam or having no real benefits, largely because it sounds similar to NHS, a related and more popular honors student society.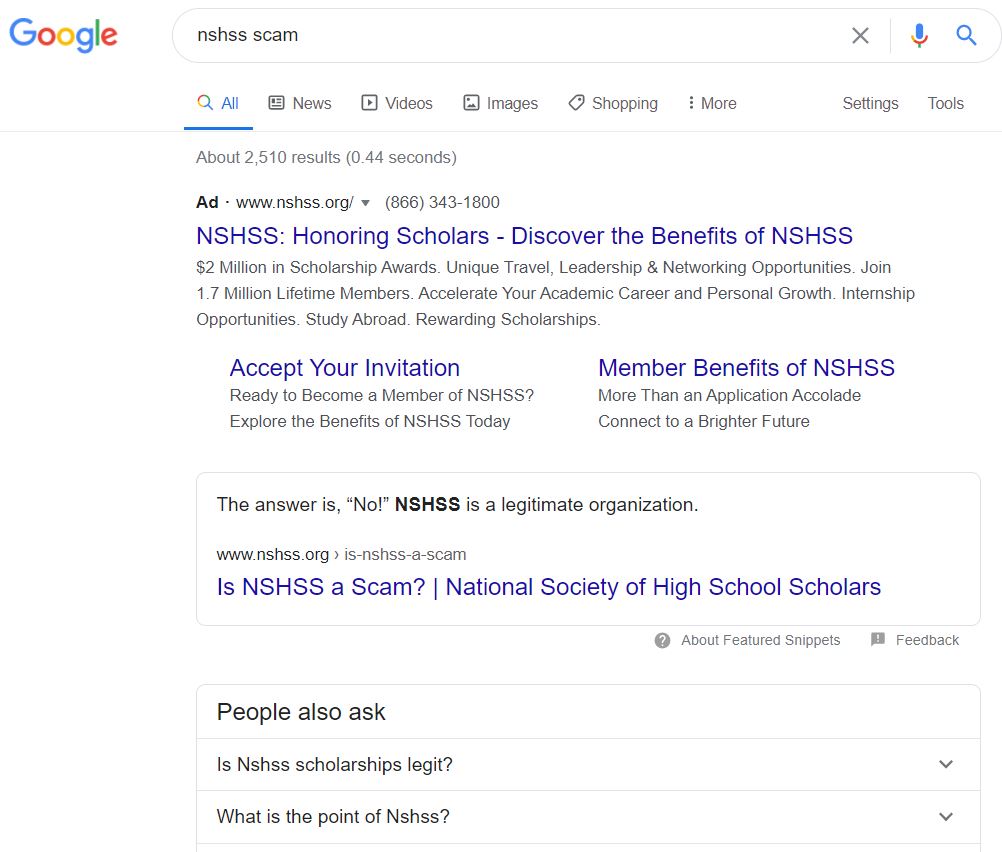 Quite the opposite is true, as NSHSS offers a lot of value for students. In addition to scholarships and college funding support, students can pursue opportunities for study abroad, internships (abroad), college and career fair events, networking, and other benefits.
Paid search, or PPC advertising, has been pivotal in supporting this greater brand strategy. It's also been fundamental to growing the organization's membership base.
Since I started with NSHSS via Captivate, the Summer Campaign was always a massive, 3+ month push to increase brand visibility and get in front of new prospective students. Between direct mail, social media, and search – NSHSS had steadily grown to new members and retained its reputation as a legitimate organization.
Below is a portion of the 2020 Summer Campaign report, which highlights our third year running a successful paid search campaign with Google Ads.
Summer campaign at a glance
Parallel with a physical mail drop and paid social media efforts, the Google Ads account for NSHSS ramped-up its summer campaign on June 10 and ran through the end of September.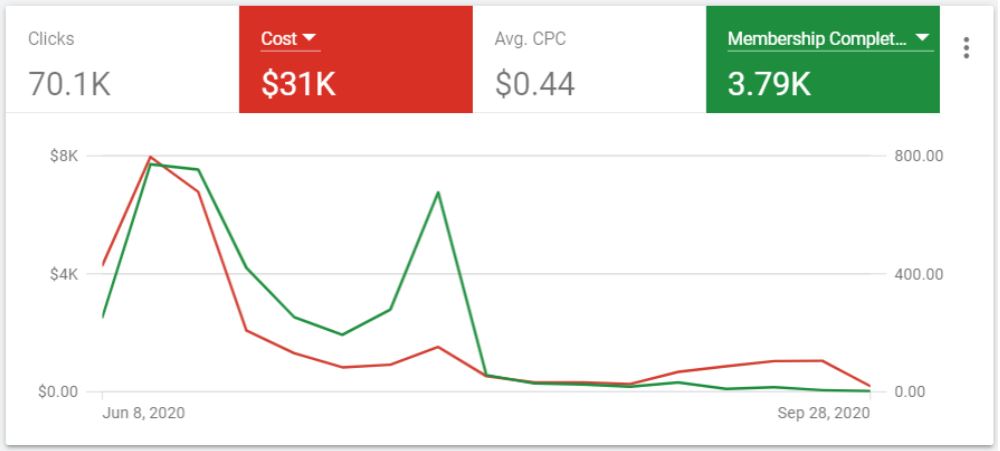 The 2020 summer campaign experienced its best year yet in acquiring the highest volume of new members to date via Google Ads, all while becoming more cost-efficient in terms of ROAS (return on ad spend) and CPA (cost per acquisition.)
Paid search has also continued to improve the visibility of NSHSS by occupying top positions for branded queries, thereby multiplying CTR to NSHSS.org and supporting reputation management initiatives.
During this campaign, we netted 3,791 new members from paid search at a CPA of $8.32 and ROAS of 9.14. This was substantially stronger than both 2018 and 2019 combined:
2020: 3,791 purchases | $8.21 CPA | 9.14 ROAS
2019: 1,558 purchases | $12.20 CPA | 6.14 ROAS
2018: 1,961 purchases | $15.87 CPA | 4.73 ROAS

This was the first full year of having a dedicated Parents campaign targeting an older demographic of parent-aged search engine users, which ran alongside our traditional campaign which targeted a student audience. This segmentation proved to be successful, as funneling parents to a dedicated landing page improved conversions tremendously.
In addition to campaign segmentation and dedicated landing pages, below are a couple of the top-performing Google search ads from this year's run:


Before the summer campaign, NSHSS onboarded several new team members who have been pivotal to the organization's success. While Captivate and I have helped facilitate its growth with SEO and content marketing, the NSHSS team itself has grown by leaps and bounds to truly provide students with meaningful opportunities to propel their future.
For more information about NSHSS, visit NSHSS.org.
Go back to PPC Work.